LED light bulb replacement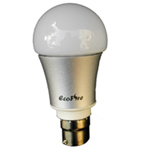 Greenforce Energy doesn't yet sell LED lamps but we have been evaluating them – because whilst it is great to use Solar PV, the best solar installers are also efficient users of energy.
We've been trialling LED downlights and LED compact lamp replacements – because LED lamps have the possibility of saving you half your lighting energy costs whilst helping the planet.
The look is very similar to a standard compact fluorescent energy efficient light (12W-15W), and uses half the power (6 watts). The light is more appealing than white LED lamps have been historically, but we recommend starting your own retrofits with small trials of one or two lamps.
Six months have passed, and the lamps are holding up well – we think these lamps are great.
Our PowerMeter tests show a .98 power factor, and 6W consumption, for the technically curious.