CMS 2000 Inverter Replacement & Warranty Sydney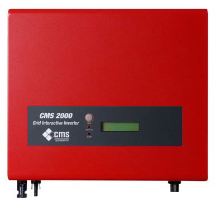 CMS 2000 was a popular transformer-less grid interactive inverter marketed by Carbon Management Systems.  (Greenforce is not associated with that company).
In comparison to other inverters being produced in Asia at the time, the CMS2000 performed "relatively" well, had next to no dead-on-arrival failures, and performed flawlessly in many cases for beyond 5 years.
Unfortunately, there are still a certain percentage of failures with any product, and certainly it would seem there have been more in recent months. Worse still, due to an overly generous (previous) warranty program and some crazy promises (paying a topup feedin tariff to new customers from company funds), the company previously called Carbon Management Solutions has gone out of business. Apparently the newly formed Carbon Management Solutions "Group" claims it is not responsible for the previous warranty issues of CMS, yet this business is clearly happy to take any new business derived from the fame of the previous company. The government really should do something about this type of practice!
In some cases, it is possible to fix the fault, depending on the actual fault. We can provide some suggestions by email that may help solve the problem.
In the event that your inverter has a permanent fault, CMS is no longer fixing them so a new inverter would be required:
– Solar Energy Australia SEA 2kW Orion (exact match for physical dimensions); OR
– Fronius Galvo 2kW.
Contact us for costs of these replacements via our solar inverter replacement service webform